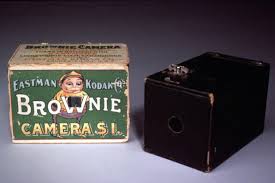 http://www.telegraph.co.uk/finance/9025492/Kodak-moments-a-history-of-Eastman-Kodak-in-pictures.html?image=2
"You press the button and we do the rest," a great slogan by Kodak. The turn of the century brought a revolution in industry that included the camera. What was once considered an opportunity for a few became convenient for many.
The Box Brownie by Kodak was an innovative disruption. A paradigm shift took place for the amateur photographer who now had "the right to record the world" (Wells). What was once private became public. The ability to record and share our intimate moments shifted the way we perceive those around us and our self. Recording family events has fast become a voyeuristic exercise on social media. Is the photograph no longer a personal memory? Or is it personal gratification?
Technology has greatly improved the process of capturing images so much that I wonder if the value of an image has decreased to either the user of the reader. If we can shoot 1500 images in a day, do they all carry the same value as if we only shot 15 images with great care and thought? Does technology minimize the meaning?