Photo opportunities for political leaders or corporate leaders can be more difficult than it seems. Is it staged for optimal public relations? Are the gatekeepers monitoring the information being released?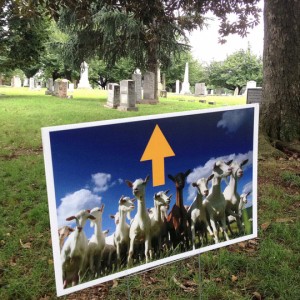 Photograph by Charles Dharapak/Associated Press
An article by David Campbell called Staging Politics: Beyond White House Access, the Photo Op is the Larger Issue, addresses the issue of photographic opportunities. The question asked is why are only select photographers given access to the Oval Office? White House events? Presidential vacations? There is something to be said for putting forth images that put the subject in the best light. No one wants to have their mug seen by millions of people via the Internet only to find they were blinking or making a quirky face.
Photographers have protested the restrictions that have been set for taking images of the president. They have been carefully staged and are intended to remain that way. In the image above, a sign has been placed to direct photographers to the event. A photograph of the staging process is an interesting concept I would say. There is something to be said about documenting the process of a photo shoot that sheds light on what is really happening around the final image. Perception can be easily swayed by images. Campbell suggests that, "It is time to look at the bigger picture, and make the photo-op as much the subject, so we have a visual record of how events and issues are managed and staged."
http://www.david-campbell.org/2013/12/19/staging-politics-white-house-access-photo-op-larger-issue/
Photograph by Charles Dharapak/Associated Press